2022年 9月 30日 at am6:33
#1963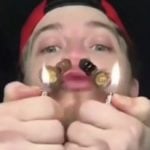 Cannabliss
Participant
Points: 4,152
Not much light is needed. You can get away with 25% at 2ft, and either move it closer or turn the dimmer up as they grow.
In veg I would only go up to 50% max at 18 inches once they are established & transplanted into bigger pots.
The rest of the power is saved for flower while maintaining 18-20″ from the top of the plant.
How long have you been growing? (If you don't mind me asking)
I'm entering my 3rd year.