2022年 10月 3日 at am11:53
#2560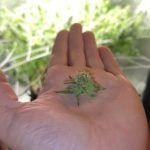 Atom
Participant
Points: 598
I'm using a 50/50 happy frog/oceans forest with about 10% boost in perlite. This is an accidental cross from another grower. It basically kept the gg4 look and color, but took on some of the FPP flavors. It's absolutely delicious, but probably the hardest strain I've grown. Extremely lanky/thin but sorta rubbery stems. If you don't net or stake, after about week 5 they droop to the floor.
I've ran it a few years then decided try some new strains. I kept one of the strains (Grape  pupil purple pheno) went to go back and had only 1 of 20 seeds grow, and didn't think it was going to. It stayed small for like 3 weeks then finally took off. Now I'm fixing to make my own fems and store them properly so I never lose this strain. Feel very lucky i was even able to get it back 🙏
This reply was modified 5 months, 3 weeks ago by

Atom

.