2022年 10月 3日 at pm1:17
#2572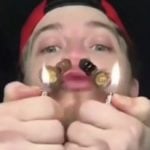 Cannabliss
Participant
Points: 4,157
I have used some pretty weird tells, that very well may not even be legit "tell tale signs" that they have finished.
1st go to: jewelers loupe on the calyx to make sure I am not showing more clear than milky.
2nd go to: any new white pistils? If there are new ones.. and they aren't all over.. I can over look it as a possible foxtail trying to poke out.
I like to top those back early if possible by snipping the small huddle of pistils trying to form the foxtail. I've done it & seen it work kinda like topping a node. The focus of growth will shift. 😀
3rd… I've actually waited for colas to start falling over & let them go 2 weeks from the time that half the plant is leaning. By the time I chopped those 2 weeks later.. I still had some white pistils.. more than I'm comfortable with.. but they hadn't gone thru their whole final swell yet (I believe *due to the visual of pistils)
I think on that plant I missed out on a little bit of final weight, but I'll tell you it was damn near the best taster I've grown so far.
strain is Sensi star from JOTI.
She had a nice cool breeze feeling on the exhale like a had a mint in my mouth, berry & earth funk on the way in.