2022年 11月 5日 at pm5:09
#8755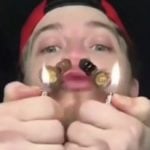 Cannabliss
Participant
Points: 4,164
You can go either way with autos. I do think that some are on the sensitive side & may think it needs to flower sooner if left in a small container too long, which in turn would keep the plants pretty compact.
If I were to take a guess at why, I'd think once the tap root hits the bottom of the pot, most may be soon to trigger into flower. That's just stoner theory though lol.
I just grew an auto from a breeder out of Canada @maple_crafts_ is his handle on IG. If you hit him up, he can probably hook you up with some plants good for your space.
This one was advertised on the label as small – medium in size. Started in a cup & went to 3gal on day 26 from sprout. She popped out a nice 112g dry. She was super fat.