2023年 1月 30日 at am2:55
#9881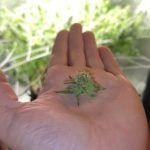 Atom
Participant
Points: 652
Everything going pretty well. Ended up with 4 fems from the trop driver, one took a good week longer to show than the rest. I didn't have space for everone so I gave the 4th one away to a fellow grower.
There is definitely a noticeable keeper from each strain. The Bubba is much shorter and bushy than the other 2. Being mostly indica it's not surprising. About 3 more weeks before switching to flower.
Attachments:
You must be
logged in
to view attached files.