2022年 12月 13日 at am6:13
#9352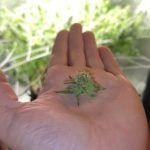 Atom
Participant
Points: 678
Its very strain depending. Your looking fpr something kinda like this? This is grape pupil V2 (the pink cut) grown under SF4000. Its about 8 months old now, i cut this one out of rotation in favor of purple. The purple also hard buds, not quite as hard but larger.
Imo the guy is just trying to make a sale. Ive never grown under those other dioeds but can say for sure you can get very dense, dispensary look from the 301B.
Attachments:
You must be
logged in
to view attached files.