2023年 1月 2日 at am3:27
#9568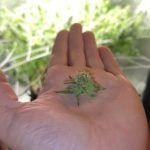 Atom
Participant
Points: 678
Today is the day of pollination. I turned all my fans off, made sure air was as calm as I could get it and went for it. I rubbed about 6 8 bud sites on each strain. The purple gorilla has such a crazy stretch. Towers over the grape pupil. I placed the grape in middle where there's higher ppfd, we'll see how it works out for me.
Changed the location of fans and turned light 90⁰. They seem to really like it this way.
Attachments:
You must be
logged in
to view attached files.